13th French Tech Night is coming!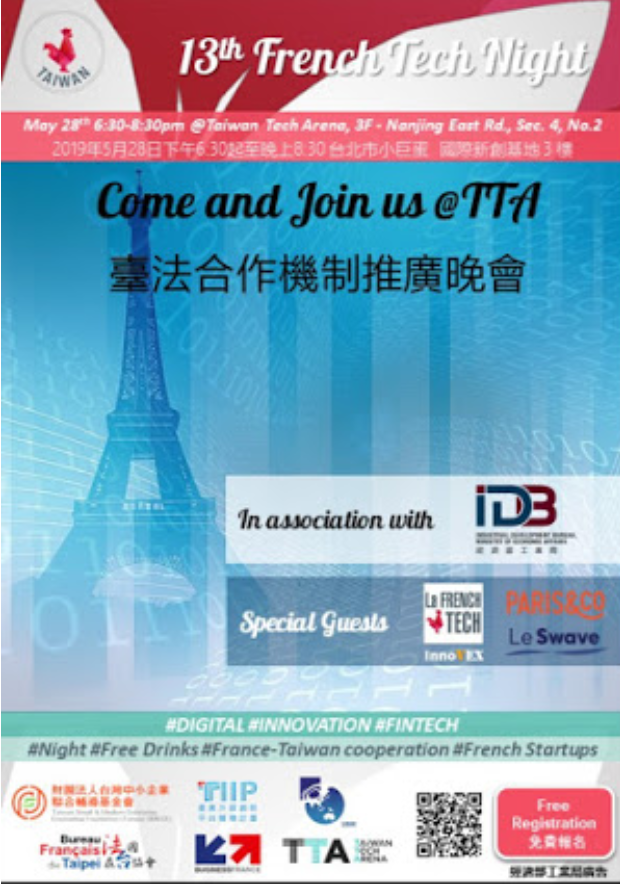 Chers Amis, Dear Friends from La French Tech Taiwan Community, Our 13th French Tech Night is coming!
La French Tech Taiwan, in association with French Office in Taipei, IDB SMECF, La French Tech @InnoVEX (brought by Business France) cordially invite you to its 13th French Tech Night at Taiwan Tech Arena in Taipei. This special event for the 1st anniversary of French Tech Taiwan at TTA will welcome 8 fabulous French startups exhibiting at InnoVEX 2019 (ADOK, DIGITSOLE – powered by Zhor-Tech, ENERGYSQUARE, HOOMANO, QUANTMETRY, MAPWIZE, THIHIVE and VIRTUAL ROOM), BLEUJOUR (French Fab), Le Swave Fintech Accelerator (PARIS & CO) and a delegation from Members of French Parliament.
We will also call for more cooperation between French and Taiwanese companies on innovation and network with our French Tech Taiwan Community and Friends.
Do join us and enjoy our presentations and networking party to exchange about innovation, digital economy, entrepreneurship, start-ups,…
Date: May 28th, 2019 – 18h00-20h30
Venue: Taiwan Tech Arena, 3F, N°2, Section 4, Nanjing East Road, Taipei City
Registration to this event is MANDATORY | Food and beverages provided free of charge | Dress code: business casual
13th French Tech Night is coming!