"

Women's

Leadership: Driving Change Across East and West"
Save the date on Tuesday, March 8th! 
Limited spots available to connect with TOP Female Professionals who are successfully leading international teams across East and West.
To celebrate International Women's Day, La French Tech Taiwan is delighted to invite you to a special evening. Join our learning and sharing event: 2 fireside chats and 2 speed-dating sessions to let you connect in an exclusive way with 10 inspiring female leaders.
Come to meet our distinguished guest speakers from Taiwanese and International startups and corporates in the field of Tech, Finance, Beauty. It will be a unique opportunity to learn about their secret recipe for success in multi-cultural environment.
DISTINGUISHED GUEST SPEAKERS & MODERATORS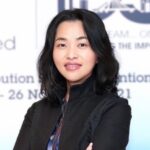 Polly Yang
Head of Sales Taiwan, STMicroelectronics
◉ March 8th, Tuesday 18h30- 21h
◉ Taiwan Tech Arena | No. 2, Section 4, Nanjing E Rd, Songshan District, Taipei City, 105
◉ The exchanges will be conducted in: English

◉ The event is 2-fold : 2 fireside chats with 2 rounds of "speed-dating" sessions where the audience gets the chance to interact with the speakers in a more casual way.
[Speed-dating Rules]
First-Come, First-Served, registration ONLY event of 60 guests.
Choose 2 guest speakers of your choice when registering. The organizer will try its best to allocate you based on your preference and according to the availability.

You will be given 2 matching color cards at registration for listing down a question to your choice of guest speakers.

Speakers will collect those questions and, at her own discretion, will take them into account during the speed dating session.
18:15-18:45 WELCOME & REGISTRATION
18:45-18:50 WELCOME ADDRESSES & OPENING REMARKS 
* Clara CHAPPAZ, Director, La French Tech  (TBD)
* Mrs. Laetitia LIM, Co-president of La French Tech Taiwan & CEO, Quividi
18:55-19:25 FIRESIDE CHAT 1:  WOMEN LEADERSHIP IN CORPORATES VS. STARTUPS
19:25-19:55 FIRESIDE CHAT 2: INTERNATIONAL LEADERSHIP FROM WEST TO EAST AND EAST TO WEST
20:00-20:40    "SPEED-DATING" SESSIONS  (15MINS EACH)
Alice CHANG – CEO and Founder, Perfect Corp
#9: Laetitia LIM – Co-President of La French Tech Taiwan & CEO, Quividi
20:45-21:15    NETWORKING