Registrations have closed.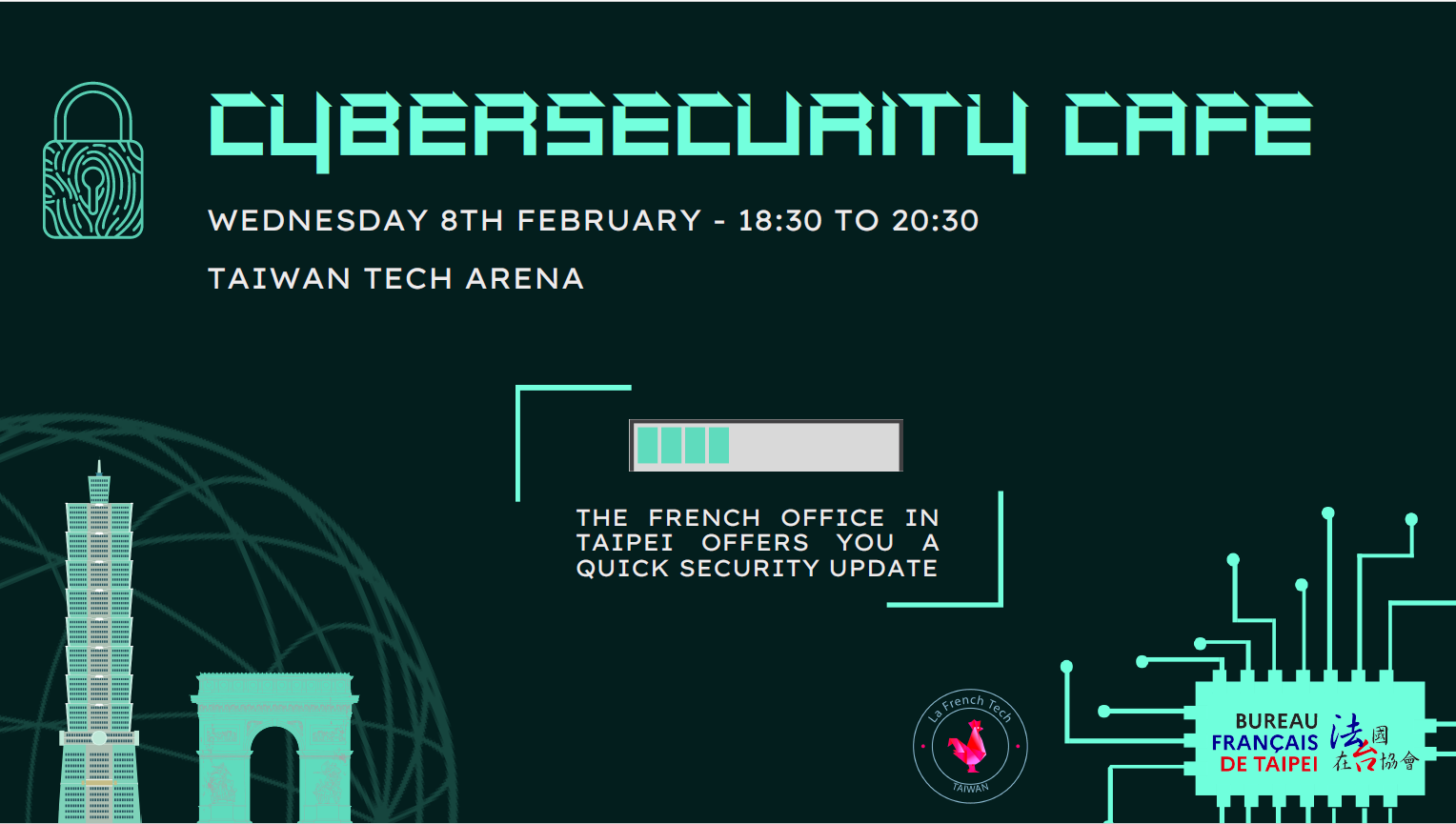 Cybersecurity Café, Taiwan Tech Arena, February 8
507
507 people viewed this event.
Join us on Wednesday, February 8th, 2023 at 18:30 at Taiwan Tech Arena (Open Staircase room) for our first in-person edition of the "Cafés Scientifiques" series organized by the French Office in Taipei. For our first edition, in collaboration with La French Tech Taiwan, we will explore a topic that affects us all: cybersecurity.
Our experts will delve into the latest security trends, from the zero trust technology, RSA recent challenges and the use of ChatGPT for cybersecurity to the cutting-edge field of post-quantum cryptography…

Don't worry if you're not fluent in cybersecurity lingo, you won't be the only one.
Our experts will translate the technical terms for us and allow you to impress your friends with your newfound knowledge.

Join us for a fun and informative café scientifique and take away valuable insights that will make you want to learn more about the topic.

For this event, we are lucky to have two high-level speakers who share the same commitment : to close the gap between science and innovation and to use new discoveries to make the digital world more secure.

Alan Marzec will start by overviewing the main current topics to be aware of in cybersecurity. Alan is a member of the French Tech Taiwan and a cybersecurity specialist with 20 years of experience in the international tech industry. He is co-founder and CEO of Reekon, a cybersecurity startup based in Taiwan Tech Arena and in France that helps major clients from different industries (payment, automotive, HealthTech, Crypto…) protect their data. His focus is to bring together solution providers and security labs to provide a global approach to cybersecurity. A graduate from Paris-Saclay University (formerly Paris-Sud), he trains students, specialists and novices in cybersecurity all over the world.
Chen-Mou Cheng will talk about Post-Quantum Cryptography, a field in which he is a leading global expert. A graduate from NTU and PhD from Harvard University, Chen-Mou has a 30-year long and distinguished academic career at the world's leading institutions in cryptography. He recently joined BTQ as chief scientific officer. BTQ is a Taiwan-based company that develops highly innovative post-quantum infrastructuin collaboration
=================================================================
The "Cafés Scientifiques" take place every two months and provide a platform for experts from France and Taiwan to share their knowledge and insights on a wide range of scientific topics. Our expert speakers will present in English, and the relaxed atmosphere will encourage lively discussion and networking.

You don't need to be an expert to attend and this event is open to everyone interested in the topic. The presentations will not be superficial though. It will provide specific, up-to-date information that will deepen your understanding of the field.

After the talks, continue the conversation over a drink and light refreshments. Don't miss this opportunity to expand your knowledge and connect with like-minded individuals !