Registrations have closed.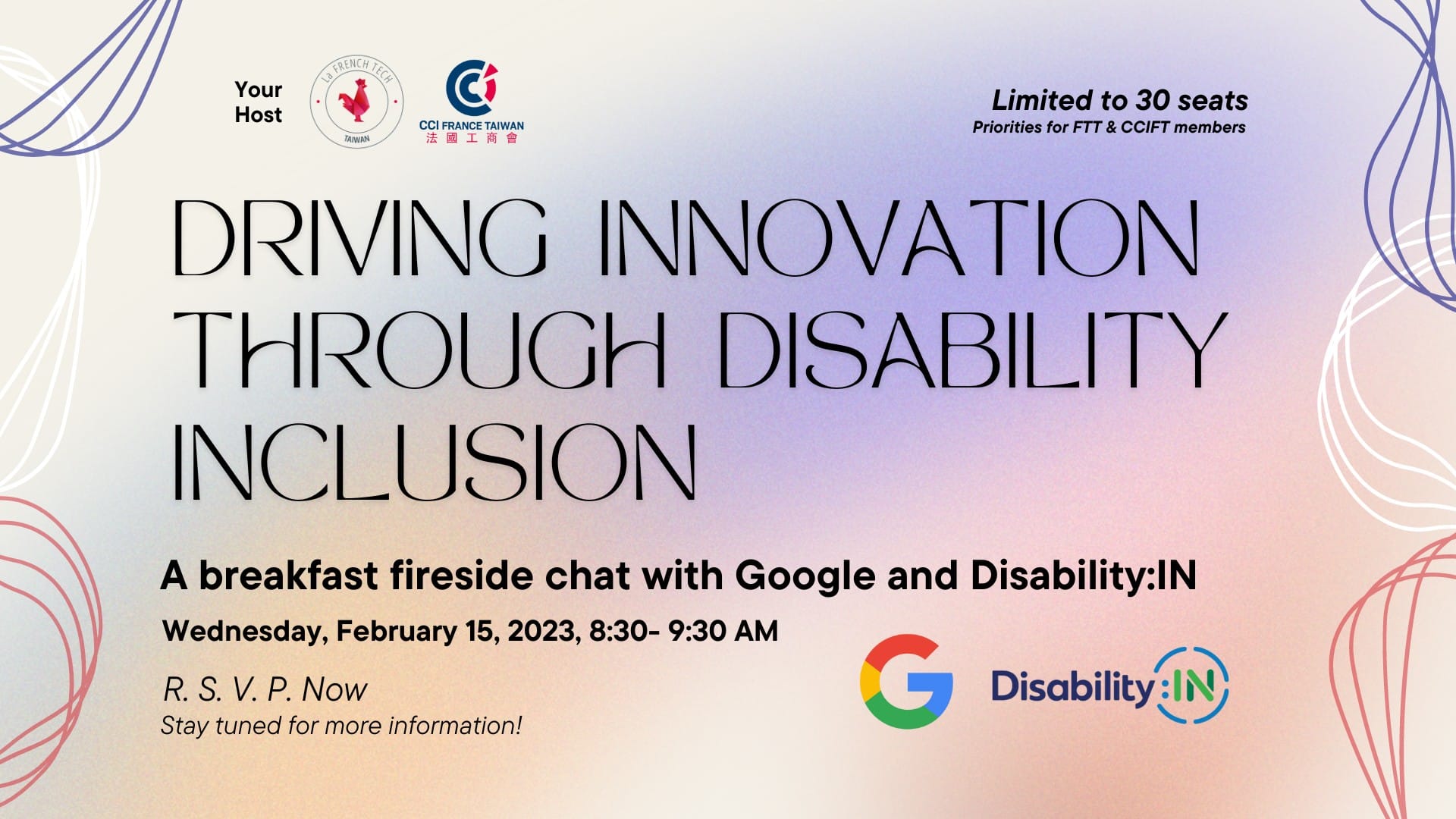 Driving Innovation Through Disability Inclusion
2102
2102 people viewed this event.
La French Tech Taiwan with the CCIFT present their first breakfast talk on
DRIVING INNOVATION THROUGH DISABILITY INCLUSION
People with disabilities comprise 15% of the global population. This largest minority group in the world is increasingly changing the face of products and services to be more inclusive and human-centered. How can companies based in Taiwan leverage the advantage of disability talents and markets to boost innovation and accelerate diversity and inclusion? This talk hosted by La French Tech Taiwan with the support of the French Chamber of Commerce and Industry in Taiwan, invites experts and companies championing disability inclusion to share their insights and practices.
Agenda
8.00 – 8:30am: REGISTRATION
8.30 – 8.35am: INTRODUCTION
Stéphane PEDEN, Managing Director of CCIFT
Ms. Cerise PHIV, Co-president of La French Tech Taiwan, Co-Founder of Symaps.io
Ms. Ching-Shiuan JIANG, Disability:IN APAC lead disability inclusion consultant/ social entrepreneur
8.35 – 9.00am: DISABILITY INCLUSION DRIVING INNOVATION
Mrs. Ching-Shiuan JIANG, Disability:IN APAC lead disability inclusion consultant/ social entrepreneur
9.00 – 9.30am: ENGAGING TALENTS WITH DISABILITY AT THE WORKPLACE
Vanessa LU, Market HR Lead for Taiwan, People Operations, Google
Cindy HSUEH, program manager at Google Taiwan
Moderated by Mrs. Ching-Shiuan JIANG
9.30 – 9.35am: CLOSING
9.35 – 10.00am: NETWORKING
Free event with priority given to La FTT and CCIFT members with limited seating availability.
Complimentary breakfast and drinks.
Venue: Taipei, (Details will be sent after registration)
*Wheelchair is accessible to the venue
If you wish to register, or any question related to the event, please contact david@frenchtechtaiwan.com
Speakers
Ching-Shiuan is a DEI consultant and entrepreneur, with a focus on disability inclusion. Recently joined Disability:IN, a leading nonprofit resource for business disability inclusion worldwide as their APAC lead consultant, she also founded multiple award-winning initiatives across the Asia Pacific region, fostering innovation through disability tech and inclusive design, and advised public and private sectors on disability inclusion strategies. 
Passionate about social impact, her career spans over 8 years in international organizations such as the World Economic Forum, where she managed high-level partnerships advancing social economic inclusion and co-founded WEF's first employee resource group on disability inclusion, and the United Nations, where she strategized, implemented and evaluated complex global projects.
Ching-Shiuan holds an MBA in international organizations management from the University of Geneva, and a master's in international relations from National Taiwan University. She speaks English, Mandarin, and French and enjoys swimming, painting, and all forms of art.
Vanessa Lu is responsible for developing Google's human resources strategy in Taiwan, effectively combining global resources and Taiwan's strengths to continue to drive the company's growth. 
Prior to joining Google, Vanessa worked at LINE as Senior Director of Human Resources in Taiwan, where she worked with LINE's Managing Director in Taiwan to develop and drive the execution of human resources strategies and coordinate the management of the Human Resources and General Administration departments. During her time at Standard Chartered Bank, she was a Human Resources Manager and Learning and Development Manager. 
Vanessa holds a Master of Business Administration degree from the University of Rochester and is a recipient of the National Human Resource Innovation Award, the Elite Award and the Girls In Tech – 40 under 40 award.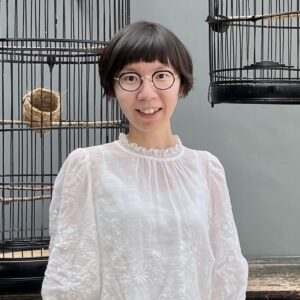 Cindy Hsueh is a Taipei native. She graduated from the National Chengchi University in 2021 with a master degree in Human Science and joined Google as a program manager. In her role, Cindy continues to develop her specialty in vendor management and project strategic planning.
Cindy was diagnosed with Spinal Muscular Atrophy (SMA) at the age of one. Despite the limited mobility brought by the usage of a wheelchair, her love for traveling and the determination in pursuing her dreams are not impeded by these challenges. Cindy believes that 'Nothing can stop us from achieving our dreams'.
With Japan as the first stop, Cindy later visited Iceland and several other countries for self-guided traveling. She also spent some time in France as an exchange student, embarking on a series of beautiful and arduous journeys. Her aspiration is to share stories to connect people and promote disability awareness. Cindy proactively engages with various organizations to advocate and accelerate DEI efforts.