Registrations have closed.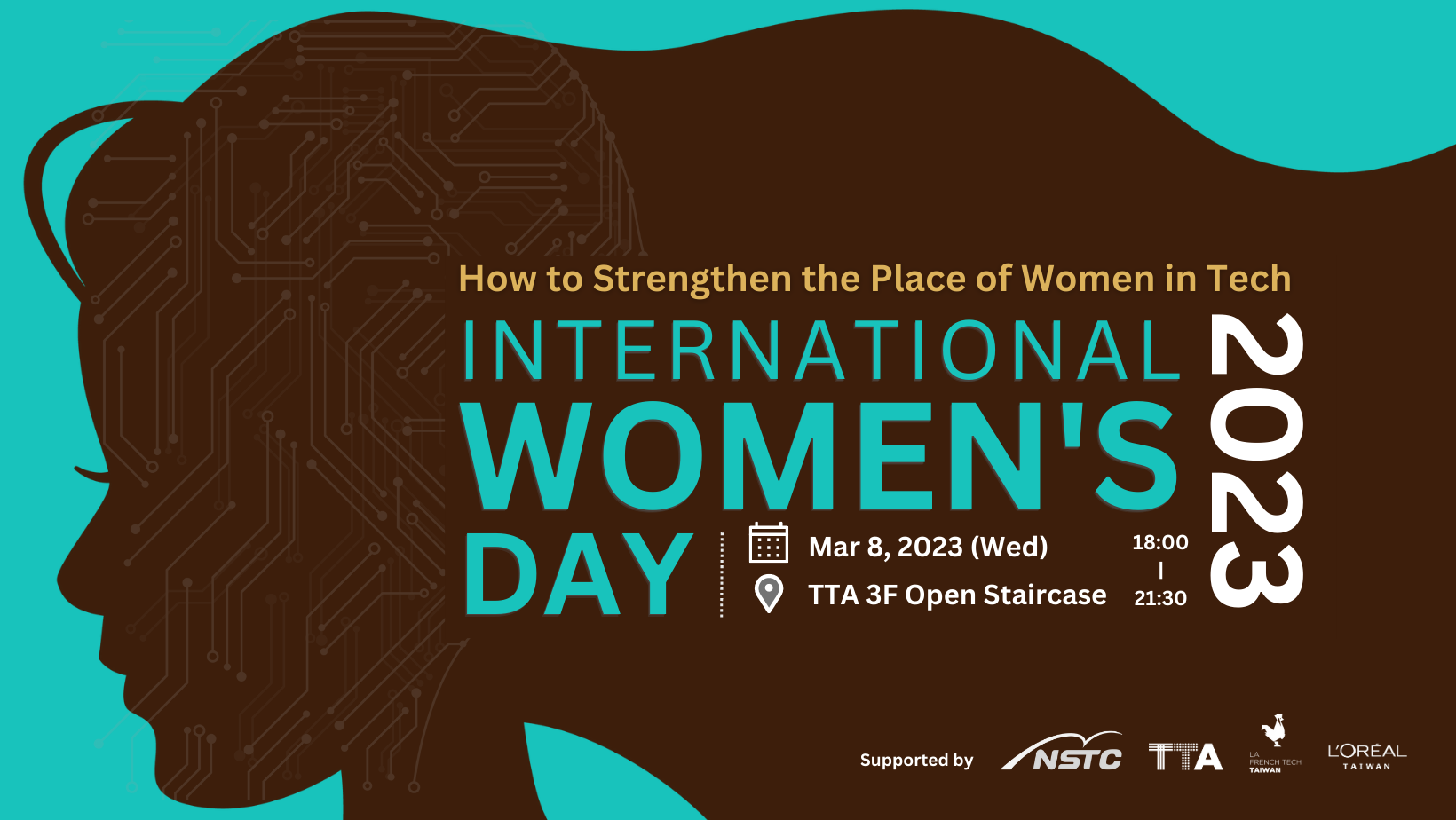 INTERNATIONAL WOMEN'S DAY EVENT
2588
2588 people viewed this event.
La French Tech Taiwan with Taiwan Tech Arena's celebration of Women's International Day
In May 2022, La French Tech launched the "Parity Pact" which was then signed by 69 French startups from the FT120 (French startups in hypergrowth). The pact aims to implement concrete commitments to significantly and sustainably advance equality between women and men in the French start-up ecosystem. This year La French Tech Taiwan takes the opportunity of the celebration of the International Women's Day to make an assessment of women entrepreneurship in the French and Taiwanese innovation ecosystems: which best practices can be shared in terms of governance, recruitment and training ; what are innovative or alternative ways to challenge biases encountered by female founders and generally minorities in the workplace? 
We will address these questions by inviting policy makers and representatives at government and corporate levels, startup founders and women working in tech to share their guidelines and testimonies hoping to contribute to creating more equity and diversity in the workplace. 
AGENDA
18:00 – 18:20 : Registration
18:20 – 18:22 : MC Opening
Ching-Shiuan Jiang, DEI consultant/ social entrepreneur
18:22 – 18:30 : Welcome address and opening remarks
Dr. Wu Tsung-tsong, Minister of the National Science and Technology Council
Mr. Jean-François Casabonne Masonnave, Director of the French Office in Taipei
18:30 – 18:35 : Group Photos
18:35 – 19:35 : 1st panel discussion (50 min discussion + 10 min Q&A) 
TOPIC: HOW TO IMPACT SOCIETY AND INNOVATION AS FEMALE LEADERS 
Moderated by: Moderator: Andrea T. J. Hsu, Director General, Department of Academia-Industry Collaboration and Science Park Affairs, NSTC
Ms. Rose Tsou, Pre-Chairwoman of World Vision Taiwan 
Ms. Eva Leihener-Stefan, CEO of L'Oreal Taiwan 
Ms. Amy Kwok, MD, MPH, CEO of Penguin Smart
19:35 – 19:55 : BREAK
19:55 – 20:05 : Keynote
The Parity Pact, by La French Tech (10 min) : Clara Chappaz, Director of La French Tech
20:05 – 20:35 : 2nd panel discussion (20 min discussion + 10 min Q&A) 
TOPIC: ACCELERATING THE GROWTH OF FEMALE FOUNDERS AND TALENTS IN TECH COMPANIES
Moderated by: Claire Chang, Founder of Techmoi, French Tech Taiwan Board Member
Ms. Moeko Suzuki, President of Startup Lady Japan
Melody Chen, RD Manager, AeproMED innovation corp., Ltd.
Aude Moras, Head of Product at Table Check, French Tech Tokyo Board Member
20:35 – 20:40 : Conclusion and wrap up
20:40 – 21:20 : Networking Cocktail