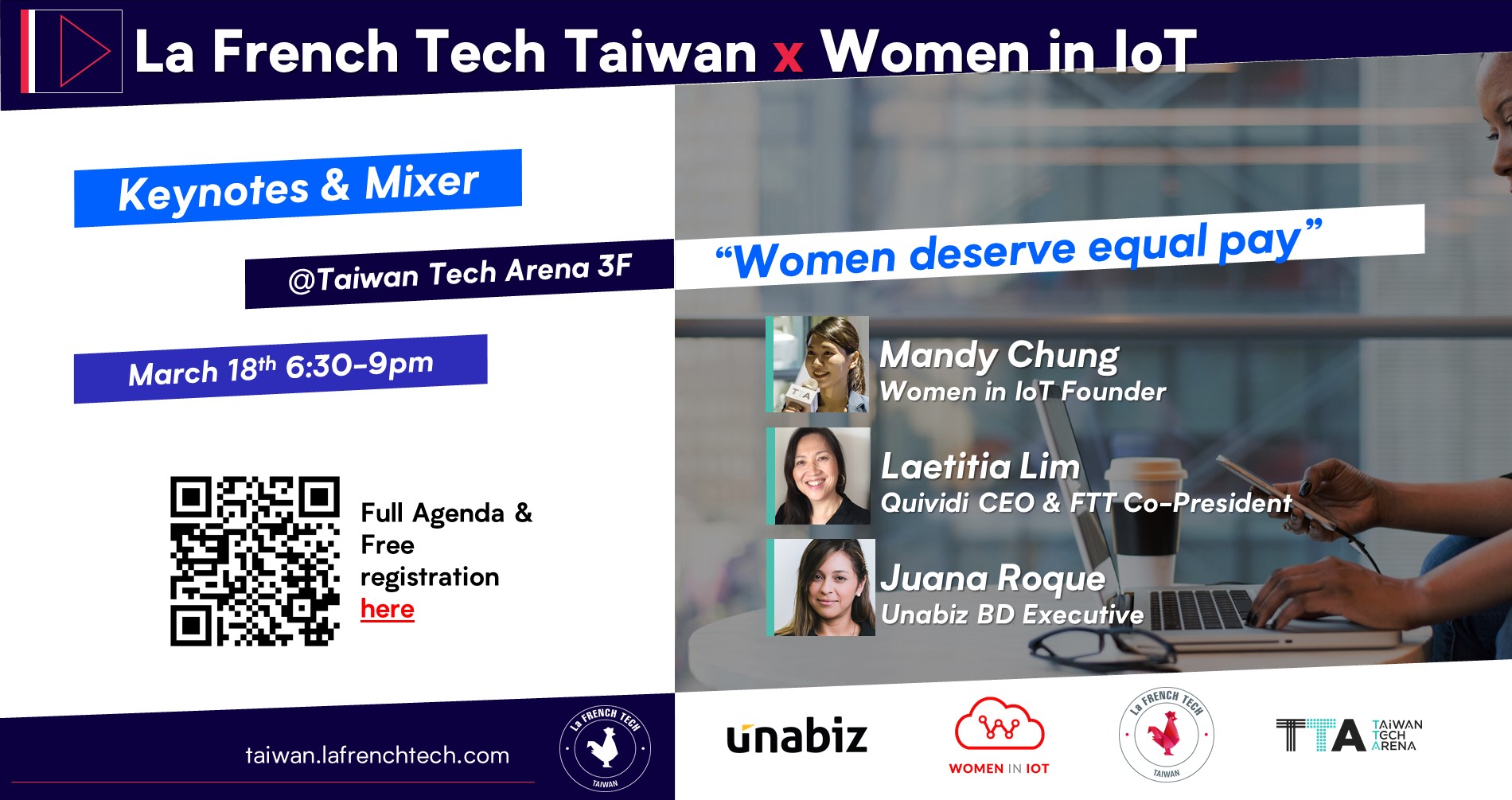 La French Tech Taiwan x Women in IoT : Women Deserve Equal Pay
4
4 people viewed this event.
Join the Women in IoT and French Tech Taiwan on March 18 (Wednesday) for an exciting conversation about women empowerment and how women can earn the salary they deserve in tech workplace.
Topic: Women in IoT x La French Tech Taiwan: Women Deserve Equal Pay
女性如何在職場贏得平等的薪水
Keynote Speakers: Mandy Chung, Laetitia Lim, Juana Roque
Time: March 18, 6:30-9:00 pm
Venue: TTA (台北小巨蛋 TTA台灣科技新創基地)
Agenda:
6:30-7:00 Registration
7:00-7:25 Opening & Introductions (WiI, FTT and Unabiz)
7:25-7:40 Presentation by Mandy Chung
7:40-7:55 Presentation by Laetitia Lim
7:55-8:10 Presentation by Juana Roque
8:10-8:30 Q&A
8:30-9:30 Networking
Speaker Bio (講者介紹)
Mandy Chung
Mandy is the co-founder of Women in IoT, a community aiming to bring women in the IoT industry together. After over a decade of experience helping hundreds of IoT startups take their ideas from concept to market, Mandy was inspired by her own experience in the global startup world to cofound a non-profit initiative called Women in IoT in the goal to provide a community to empower, inspire and connect women to make difference in the IoT and tech world.
Laetitia Lim
Laetitia is currently the Chief Executive Officer at Quividi, the leading audience and campaign intelligence platform of Digital Signage.
She started her career at L'Oréal and held several general management positions across Asia. She then co-founded CompareAsia Group, Asia leading financial marketplace. Present in 6 countries, CompareAsia Group is helping 60M+ consumers make better financial choices by providing comprehensive comparison and education over 1000 financial products. She graduated from ESCP Europe business.
Juana Roque
Juana is the Business Development Executive at UnaBiz, a 3-year old startup currently disrupting the global IoT market providing massive IoT solutions in over 30 countries. Fully educated in Taiwan in both engineering and MBA studies (on full 6 year-scholarship from the Taiwan government to Nicaraguan students), Juana has years of experience in the digital and IoT industry in Taiwan, first as a digital marketer for IoT products, then as a product marketer for Tatung Technology, a Taiwanese global brand. Juana will be sharing her experience as a Latin-American working, living and breathing in the IoT sector in Taiwan for almost 5 years now, and how the French-Taiwanese startup UnaBiz she works for has always valued gender-balance as a key factor for company growth
Women in IoT (主辦單位介紹)
Women in IoT is a community with the goal to bring women in the Internet of Things (物聯網) industry together. Based in Taipei, Taiwan, we host events aiming to connect, inspire and empower women for entrepreneurial and personal success. We also connect with overseas women entrepreneur communities to co-host events to bring diversity into our local community. Our goal is to have a highly engaging, proven educational community for women to inspire and encourage more females to mentor, network and grow in tech fields. Contact us: mandy.chung@womeniniot.io
La French Tech Taiwan (協辦單位介紹)
"La French Tech" is one of the main support mechanisms and tools used by France to promote the development of emerging technologies. It is based on the concept of linking public and private, domestic and overseas stakeholders, to create a comprehensive network.
"La French Tech Taiwan" is supported by the French institutions in Taiwan, such as the French Office in Taipei, Business France and the French Chamber of Commerce and Industry in Taiwan. "French Tech Taiwan" is to significantly increase the number of start-up acceleration programs and incubation programs fostering new initiatives towards the development of France and Taiwan new technologies, to promote the attractiveness of France to Taiwanese startups.
UnaBiz (協辦單位介紹)
Unabiz's mission is to keep you ahead with our agility and ingenuity. By tapping on to a wide range of ecosystem partners and our manufacturing prowess, we will provide diversified expertise to power your business growth, especially in key verticals such as aerospace, facilities management, F&B, healthcare, logistics, supply chain and smart cities.
UnaBiz envisions a closely connected world powered by simple technology. We want to unite people and technology to create an impact on a massive scale, to help every person and every organisation on the planet live smarter, simpler.
Beverage Sponsor InnoVEX (贊助單位介紹)
InnoVEX is a feature exhibit dedicated to innovations and startups at COMPUTEX TAIPEI, one of the world's leading technology trade shows. InnoVEX has been recognized as an effective platform for global startups to be seen, discovered, and succeed, boosting actual businesses and collaborations. Learn more about InnoVEX: https://www.innovex.com.tw/
Food Sponsor Ooh Cha Cha (贊助單位介紹)
Founded in 2013 by California natives Mai and Spencer, Ooh Cha Cha is your go-to neighborhood joint for simple, real, whole food. The choices we make each day around the food we eat directly impacts our health, environment, community, and all living beings. We work to create spaces that make the community, people, and planet healthier and stronger. That's why we cook from scratch, work with local networks of farmers, and commit to supporting and gathering groups and organizations working to create meaningful change in the world. We want to radically change how you look at and think about food.
La French Tech Taiwan x Women in IoT : Women Deserve Equal Pay