First year achievements and 2021 perspectives
August 14th 9h30-11h30 @Taiwan Tech Arena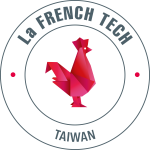 You are cordially invited to
 Open Innovation Roundtable on August 14th at 9:30 a.m. at Taiwan Tech Arena.
The Open Innovation Program developed by La French Tech Taiwan in 2019 has successfully connected innovation stakeholders from Taiwan, APAC and France, and proved to be a great framework linking big industry players with the startup ecosystem. Thanks to its wide network and dedicated team, La French Tech Taiwan has established a platform where you can learn innovation experiences from your peers, reach to the latest technology trends and connect with the best startups and leaders in innovation.

Since last year, La French Tech Taiwan has already co-organised several Open Innovation activities with significant outcomes in #Fintech (Cardif, CACIB, Huanan Commercial Bank), #Sport (Décathlon) and #Semiconductor (STMicroelectronics) has been working with others on various hot topics (Air Liquide, Airbus, Safran, Carrefour, and L'Oréal).

The roundtable is an opportunity for high-level executives from French and Taiwanese major companies to learn or share about corporate experiences in Open Innovation, and to discover the perspectives of the Open Innovation Program for the coming year.

We look forward to having you at the Roundtable and to hearing your insights about innovation.
9:15-9:30

REGISTRATION

 
 
 

9:30-9:50

INTRODUCTION

 
 

Welcome address by the Director of the French Office in Taipei

 
 

Welcome address by Co-President of La French Tech Taiwan 

 
 

La French Tech Taiwan actions overview

 
 
 

9:50-10:20

OPEN INNOVATION PROGRAM (OIP)

 
 

Activity Report 2019-2020

 
 

OIP members' Experience sharing

 
 

OIP Perspectives 2020-2021

 
 
 

10:15-11:25

ROUNDTABLE

 
 

What is your corporate innovation strategy?

 
 

How would you leverage FTT OIP to support it?

 
 
 

11:25-11:30

CLOSING REMARKS