SCALING UP: FROM INDUSTRIAL TO SMARTER HYDROGEN
IN TAIWAN

November 30th, 15h30 to 18h at Taiwania Nest
No.2, Sec.4, Nanjing E. Rd, Taipei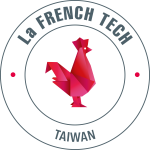 La French Tech Taiwan and the French Office in Taipei are glad to present an international Roundtable on Hydrogen technolgy applications with both the French and Taiwanese industries, associations and authorities to discuss the future of hydrogen in Taiwan.
If hydrogen has been a topic of research for decades, it is now going beyond technical fields, reaching public opinion and politics, bringing the spotlight to hydrogen as a concrete solution for ecological transition. Initiatives are flourishing and governments are allocating massive budgets for hydrogen energy projects such as France, which recently allocated € 2 billion for the hydrogen industry development over the next two years.
Taiwan is at the forefront of research for renewable energies solutions, local fuel-cell projects are numerous, although major sectors such as transportation and mobility are still waiting to emerge.
The roundtable will be a great opportunity to explore France and Taiwan collaboration opportunities on hydrogen technology, and on its applications that are reshaping the energy and transportation landscape.
15:00-15:30  GUEST WELCOME & REGISTRATION
         Master of Ceremony: Laurent Le Guyader, Vice President of La French Tech Taiwan
15:30-15:40  WELCOME ADDRESS
         Mr. Jean-François Casabonne-Masonnave, Director of the French Office in Taipei
         Dr. Eugene Chien, President of Taiwan Institute for Sustainable Energy
        Group photo
15:40-16:50  KEYNOTES
Government perspectives
15:40     "Hydrogen sector as part of the French Economic Recovery efforts"
         Mr. François Lemal, Sustainable Development Attaché, French Ministry for the Ecological Transition (online)
15:50     "Taiwan Bureau of Energy Views on Hydrogen Applications"
        Dr. Chen Chung-Hsien, Director of the Energy Technology Division, Bureau of Energy, MOEA
Industry insights
16:00     "Zero-emission Aircraft: Technology Challenges"
        Dr. Cyrille Schwob, Head of Technology APAC at Airbus (online)
16:10     "A Global Perspective on H2 mobility in APAC"
Mr. Erwin Penfornis, APAC Vice President Hydrogen Energy at Air Liquide (online)
16:20     "Opportunities and Challenges for the Taiwan Hydrogen Industry"
        Mr. Louis Pao, Founder of MEO City & Advisor at Asia Pacific Fuel Cell Technologies, Ltd. (APFCT)
16:30-17:10  ROUNDTABLE (40min)
        "Scaling up: from Industrial to Smarter Hydrogen in Taiwan"
      Moderator: Mr. William Guiomar, CEO of Safran Taiwan
        Panelists:
        Dr. Chen Chung-Hsien, Director at Bureau of Energy, MOEA
        Mr. Olivier Blachier, President of Air Liquide Taiwan
        Mr. Jeffrey Huang, President and CEO of APFCT
        Dr. Meg J.C. Lin, CEO of Taiwan Fuel Cell Partnership
17:10-17:20  H2 QUIZ!
17:20-18h   COCKTAIL AND NETWORKING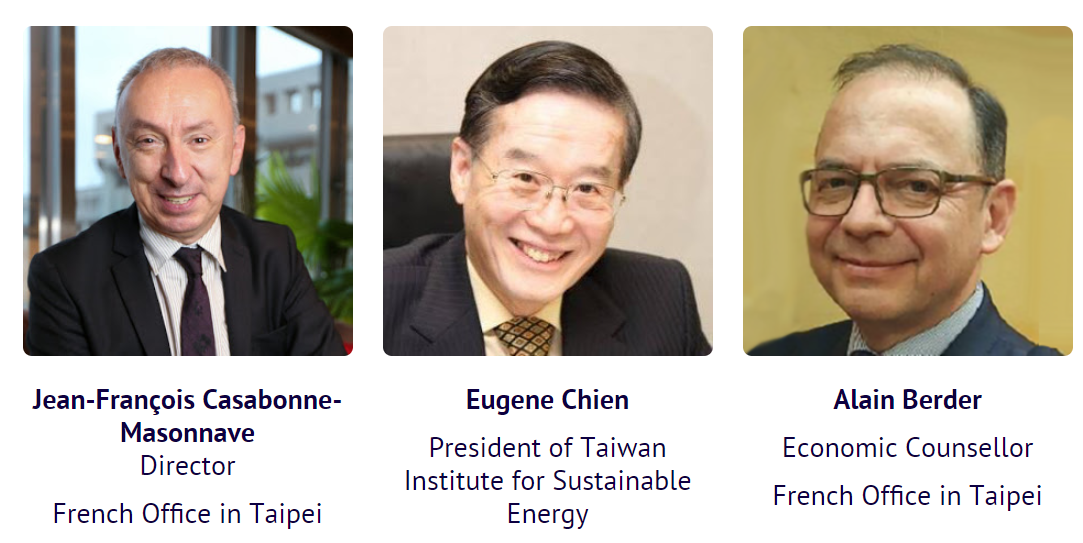 Keynote Speakers & Panelists