SIGFOX HACKING HOUSE TAIPEI DEMO DAY SEASON 1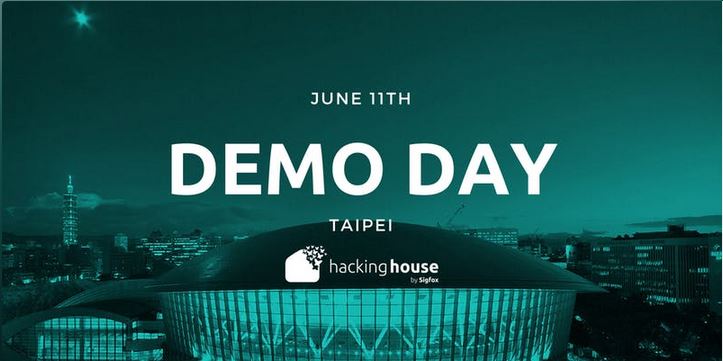 YOU'RE INVITED: SIGFOX HACKING HOUSE TAIPEI DEMO DAY SEASON 1
When: 11th June, 2PM Where: Taiwania Nest, No. 2, Section 4, Nanjing East Road, Songshan District Taipei City
We are thrilled to invite you to 

the 

Demo Day of Hacking House Taipei Season 1.
Agenda:
1:30 pm – 2:00 pm Registration

2:00 pm – 2:10 pm Welcoming Words

2:10 pm – 2:25 pm Opening Keynote by Minister Audrey Tang

2:25 pm – 2:40 pm Partners speech

2:40 pm – 2:55 pm Programs brief and Jury introduction

2:55 pm – 3:55 pm Teams pitch

3:55 pm – 4:15 pm Break // Jury deliberation

4:15 pm – 4:30 pm Awards Ceremony (Audrey Tang & Fleur Pellerin)

4:30 pm – 5:30 pm Closing words and networking
The

 Hacking House is a place where we transform ideas into real IoT solutions in less than 3 months. We bring together brilliant students and passionate talents from around 

the

 world to join our training program and innovate on IoT and Sigfox technology.
The

 Taipei program started in March 2019 and will end on June 11th with 

the

 final Presentation of 

the

 teams.
Come and join us to see 

the

 final results of these three months, learn how we work with our partners, and stay updated about our upcoming projects.
You will be meeting with a curated crowd of Taipei tech ecosystem, industry experts, startups, investors and and major IoT, software and hardware representatives.
The

 event is limited to 60 participants and is open under invitation.
Teams:
Palm Tree Infestation detector– In Abu Dhabi, the red palm weevil presents a major challenge for palm tree and cause the loss of many trees. The problem is that the effects are not visible from outside until it's too late. So one of our teams is trying to solve this problem with a solution that is not too expensive and saves tree on-time.
Fire Extinguisher Maintenance– The extinguisher is a mandatory product in France and presents in all commercial and working buildings. It is mandatory to have a regular maintenance. Between two maintenance checks, the extinguisher is awaiting to be used and no one cares about it. In order to have a clear maintenance idea, this team is working on a solution to notify when an extinguisher has been used and if it's still in the right location.
Smart Car Maintenance (Urban AI) – Today car owners have very little knowledge on how their cars report issues. Most insurers already possess a lot of historic claims data, but these data likely will not have been collected, categorised, and stored in a way that would make them immediately useful. The solution is what Urban AI proposes, to create a platform to use the data generated by the car to inform the owner about the health of car to reduce the risk of failure and maintenance. On the insurer side also, the proposal is to send the error codes reported by the car to the insurer to keep them up to date with the state of the car.
Gas Cylinder tracking– In Malaysia, companies are selling gas to households and to other companies. The price is lower for households than for companies and this difference leads in many cases to fraud. So our team is trying to come up with a device that can track the gas usage to help the government.
Jury:
Jury Board Lead: Audrey Tang, Taiwan Digital Minister
Board members:
Raouti Chehih, Sigfox

Philippe Chiu, Unabiz

Amanda Hiu, Shape prototype

Laetitia Lim, Quividi

Greg Hao, MIXI

Bruce Bateman, Liteon

Mr. Huann-Shiuh Shy, MOEA

Rosa Cheng, Taiwania Capital
SIGFOX HACKING HOUSE TAIPEI DEMO DAY SEASON 1