YOUNG ENTERPRISE iNITIATIVE
Taiwan Final 2018
For the second edition of Young Enterprise initiative in Taiwan, French Tech Taiwan is glad to partner with MOST, the French Office in Taipei and Taiwan Tech Arena to host the final selection of the winning startups. 12 preselected startup will pitch in front of a jury (see below) and the 6 best will get a free ticket to YEi acceleration programme this November in France.
Date: June 5th from 17h to 18h40
Venue: Taiwan Tech Arena, 4F. (Taipei Arena)
Agenda:
17h Welcome address (MOST)
17h05 Elevator pitch (6min by startup incl. Q&A)
18h30 Jury decision
18h40 Award ceremony & group photo with the laureates
18h45 Closing words (French Office in Taipei)
17h05 BENED BIOMEDICAL
17h12 BD MOBILE
17h19 DT42
17h26 FACEHEART
17h33 FLEXWAVE
17h40 FLOWVIEW TEK
17h47 INSTO
17h54 MOBIOSENSE
18h01 REALITEER
18h08 THINKTANK
18h15 TRADE WIND BIOTECH
18h22 UBIIK
YEi Taiwan 2018 Laureates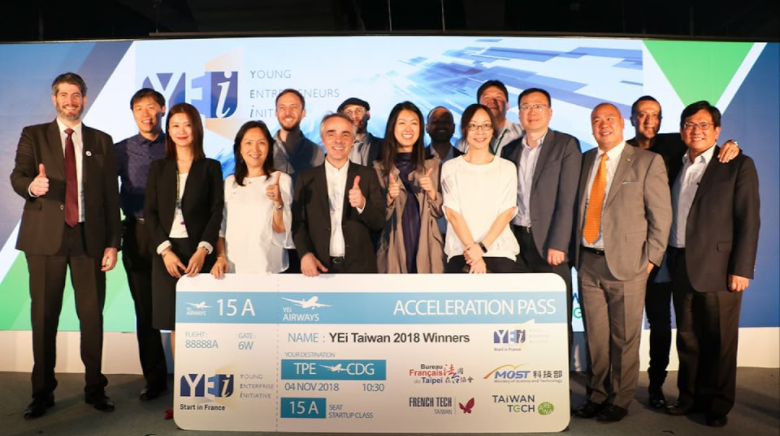 Congratulations to the 6 Taiwanese start-ups selected for the acceleration program in France!
 
The 6 founders of the winning deeptech start-ups (photo above) will go to France next November! During their stay, they will meet investors, digital and tech companies, research centers and public actors supporting innovative projects to speed up their development in Europe and internationally. YEi is open to start-ups from the United States, South Africa, South Korea, Finland and since last year from Taiwan. Three of the winners will be funded by the French Ministry of Foreign Affairs and three others by the Taiwanese Ministry of Science and Technology. The Jury, chaired by Mr. Raouti Chehih (Euratechnologies / Sigfox) had a hard time choosing the winners!
 
The happy winners of YEi Taiwan 2018:
Bened Biomedical ; eBus (Faceheart) ; FlexWave ; Realiteer; Thinktank ; Ubiik.
YOUNG ENTERPRISE iNITIATIVE-Taiwan Final 2018